Hier nochmal das Cover vom brandneuden Band 58
Kapitel 586: Die Stadt des faulen Geruchs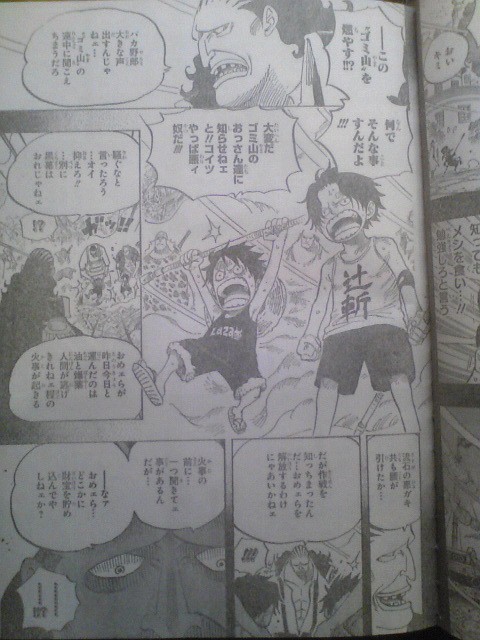 Ace: You're gonna burn this Trash Mount!?
BlueJam: You idiot, keep your voice down... The dwellers of the Trash mount might hear you
Ace: why would you do that!?
Luffy: We have to tell the old men living in the Trash Mount!! This guys is a bad guy afterall!!
BlueJam: I said don't make any sound! men, keep them down!! ....I'm not behind all this
The cargo you carried in today and yesterday were full of oil and explosives.
The fire will be so huge, there's no way any human could get away from it
BlueJam: It's too much for even the infamous brats like you?
But now that you know our plan...I can't let you go.
Before I set them on fire, I need to ask you one thing.....
You are stashing up some treasures some where, are you not?
Ace & Luffy: !!?
BlueJam: Burn all the Trash, men! Hahaha!! Once I finish this up, my long time dream will come true!!
We're gonna be awarded by the King, and become a noble and live in the High Ground City!!! Hahahaha!!
BlueJam: Alright, the fire's gonna get to us soon....!! Let's escape to the Great Gate, the army is waiting for us
Pirate: Captain BlueJam!! There's... a problem...!!
Pirate: Captain, it cant be!!
BlueJam: What the hell are you thinking!! Open the gates, Army!!
You told us you'll let us escape from here!!! What happend to our promise, King!?
When I'm done with this job, you told me you'll make me a noble.... Damn you, have you decieved me!?
BlueJam: Damn you King!!!!
Ace: Alright, I cut it!
Luffy: It's hot!! We can't get away!!
Ace: Damn, I can't believe what we got ourselves into!!
Ace: Stop it, if you cry any more I'll leave you here!!
Luffy: !!? It's... it's not hot!!
Lufy: Oh god it's hot!! I mean it's not!!
Ace: Damn... it's all sea of fire outside
Luffy: *cough* I can't breath, it hurts...! I mean it doesn't! The air is hot...!! I mean it's not...!!
Ace: Don't worry, I'm here with you. We'll get through!
Citizen: Did you hear? This fire was started by the BlueJam Pirates!!
Citizen: I knew it, they're the only ones that would do this...!
Citizen: It seems they did it so the World Government's inspectors can't get in!!
Sabo: Ace!! Luffy!!! Run away!!!
Soldier: Hey look, that kid is still here!! Throw him out!!
Dragon: What's wrong, little boy
Sabo: Hey mister, the ones behind this fire... are the King and the nobles!! It's true!!
This city smells worse than the Trash Mount!! It reeks of human corruption!!
If I stay here.... I can't be free!!!
Sabo: I am ashamed to be born a noble!!!!!
Dragon: (Goa Kindom... you would make a small child say such things!?)
Dragon: I understand well.... I was born in this country as well!!
But I don't have the power to change this nation yet....
Sabo: Mister, you will listen to me?
Dragon: Yes, I will not forget
Ace: Run, Luffy!!
Iva: Dragon!! It's all ready!!
Dragon: Yeah... .
--> Hier <--
könnt ihr über dieses Kapitel diskutieren.